News

12/21/16:
new version of the pC/OS

A small correction in pC/OS for OS_Pipe...Post. An interrupt and during sheduling is switched off a sender can't use the fast mode on OS_Pipe...Post since data source can't be guarantied.




07/21/2016:
When will the first ARMv8-M MCU be available ?


After I was able a few years ago to co-develop the L4-microkernel 'MobiCore' (now 'Kinibi TEE' of trustonic) already on Trustzone of ARMv7-A products from Samsung (Exynos4 and Exynos5) and Qualcomm (Kait), I am now looking forward when the first ARMv8-M MCU comes from a chip maker. The ARMv8-M specifications see once already promising. I'm curious how well and safely the TrustZone is useful by the special call - with or without a secure-OS and without a separate memory.
In addition to the 'small' TrustZone I'm excited about the new stack-limit register, the improved MPU and the new CryptoCell's.

In any case, the ARMv8-M (and ARMv8-R without TrustZone but with Hypervisor, e.g. ARMv8-R52) could inspire strongly the IoT- and automotive-world when a good security concept (secure-boot, keys & management, containering, storage) is used!

06/30/2016:
DCF radio clock with I2C OLED-display too

The DCF radio clock with OLED-display now supports OLED-displays with I2C-interface too. It was tested with the

SparkFun SAMD21 Mini Breakout and a Olimex MOD-OLED-128x64.




06/05/2016:
a small tinkering project for inbetween

as a small tinkering a DCF radio clock with OLED-display supporting multiple display modes.




04/19/2016:
new port of the RTOS kernel pC/OS



01/30/16:
new version of the pC/OS

A small update in pC/OS for OS_TaskIdDelete() and OS_TaskGetPrio(), OS_ID_SELF was added.



X
ARMv8 TrustZone interface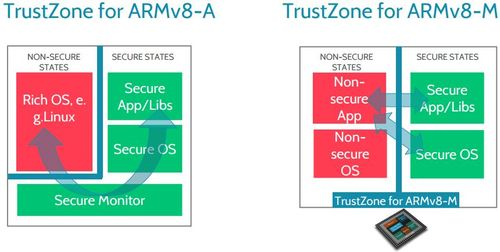 X
SparkFun SAMD21 Mini Breakout & Olimex MOD-OLED-128x64